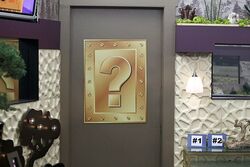 Pandora's Box is a mysterious door with a golden "?" mark on it. The Head of Household gets to choose whether to open it or not. The contents of the Pandora's Box can either be an advantage, disadvantage or both to the HOH and/or the other houseguests. It is offered to a Head of Household in certain periods in the game which are determined prior to the start of a season.
The concept of this twist borrows from the Greek myth of a box that contained all the evils in the world disguised as something good. If opened, the evils would be unleashed upon the world, but possibly bring something good with it as well.
During Season 1, Pandora's Box is renamed, NotJerby's Box as a nod to the troll of the season, NotJerby.
Big Brother 1
Edit
Week
Pandora's Box Contents
Head of
Household
Opened?
2
A Diamond Power of Veto that grants the bearer the power to remove a player off of Nomination Block and then select the nomination themselves, rather than deferring to the HOH for the replacement nominee. It came with the stipulation that he/she can not be randomly selected as a participant in POV competitions as long as he/she is in possession of the Diamond Power of Veto unless he/she is an HOH or Nominee. It is effective until the Final 5.

Perry
Yes
5
The current HOH must choose between the two houseguests that he/she nominated for eviction. The chosen nominee will become a Co-HOH and will be safe from eviction. The two Heads of Household will then choose a new nominee. Failing to come to an agreement on who to nominate will cause both Heads of Household to become the final nominees instead.

Purry
Yes
7
The current HOH will give one houseguest a "blessing" and another houseguest a "curse". The "blessing" is an additional 15% score in the Power of Veto competition while the "curse" is a 15% score deduction. The "blessing" was given to Purry while the "curse" was given to Sam.

Yap
Yes
Big Brother 8
Edit
Week
Pandora's Box Contents
Head of
Household
Opened?
2
The current HOH must choose between the three contestants who finished the lowest in the challenge. That houseguest will be a third nominee. It also brought back Jenna from BB3 for a second chance.

Ryan
Yes
Ad blocker interference detected!
Wikia is a free-to-use site that makes money from advertising. We have a modified experience for viewers using ad blockers

Wikia is not accessible if you've made further modifications. Remove the custom ad blocker rule(s) and the page will load as expected.