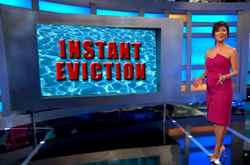 Instant Eviction is a twist where in the nominations made by the Head of Household is final and the nominees will face eviction right away. This means that there is no Power of Veto competition while the twist is in play and one of the nominees is evicted as usual.
Big Brother 1
Edit
Instant Eviction was first introduced and announced during the Week 6 of the first season of Big Brother ORG wiki. All of the remaining houseguests were legible to compete in the HOH competition, including the the outgoing Co-Heads of Household, Sam and Purry. Perry won the HOH competition and nominated Evan and Wesley. As a result, Evan was evicted from the house.
Big Brother 2
Edit
Instant Eviction was also used in the following season via the Control Panel twist. In Week 7, Lucas won the HOH competition and decided to nominate Boo and Tommy. Lucas pressed the Control Panel button that caused the Instant Eviction twist which resulted in the cancellation of the POV competition and fast forwarding to the Eviction Ceremony. Ultimately, Boo was evicted.
Big Brother 9
Edit
The Instant Eviction was available as one of the gadgets. Andy was HOH and nominated Lexi and Jessy. Sean used the Instant Eviction in Week 3 which cancelled the POV competition and fast forwarded to the Eviction Ceremony.
Ad blocker interference detected!
Wikia is a free-to-use site that makes money from advertising. We have a modified experience for viewers using ad blockers

Wikia is not accessible if you've made further modifications. Remove the custom ad blocker rule(s) and the page will load as expected.